Stow St Dead End: In my 2017 campaign, I promised to support a dead end on Stowe Street. The dead end is now included in the plans for the re-designed rotary! If this results in increased cut-through traffic for other streets in Ward 7, I am prepared to work with the neighbors to find ways to reduce it, including limiting streets to local residents only. There are some traffic patterns that will be less convenient for some residents, but I believe the overall benefits of increased safety and quality of life outweigh the concerns.
Noise Barriers: I am continuing to fight for noise barriers to be included as part of this project. The developer is performing an evaluation on sound levels, but if we do not meet the federal standard to mandate construction, I will ask the developers to voluntarily include them as part of the project. Our neighbors on Livingstone Lane and Sibley Road deserve the same quality of life as the rest of Ward 7, and I am asking state and federal regulatory agencies to only allow this project to go forward if noise barriers are included.
Tavern Road: The signals at Cedarwood Ave and Tavern Road continue to be a problem for many people entering and exiting these neighborhoods. I have worked with our city employees to ask for updates to the signal timing and detector systems in this area. I have also asked the state to paint a "don't block the box" and install signs, to help keep the intersection clear for people making turns.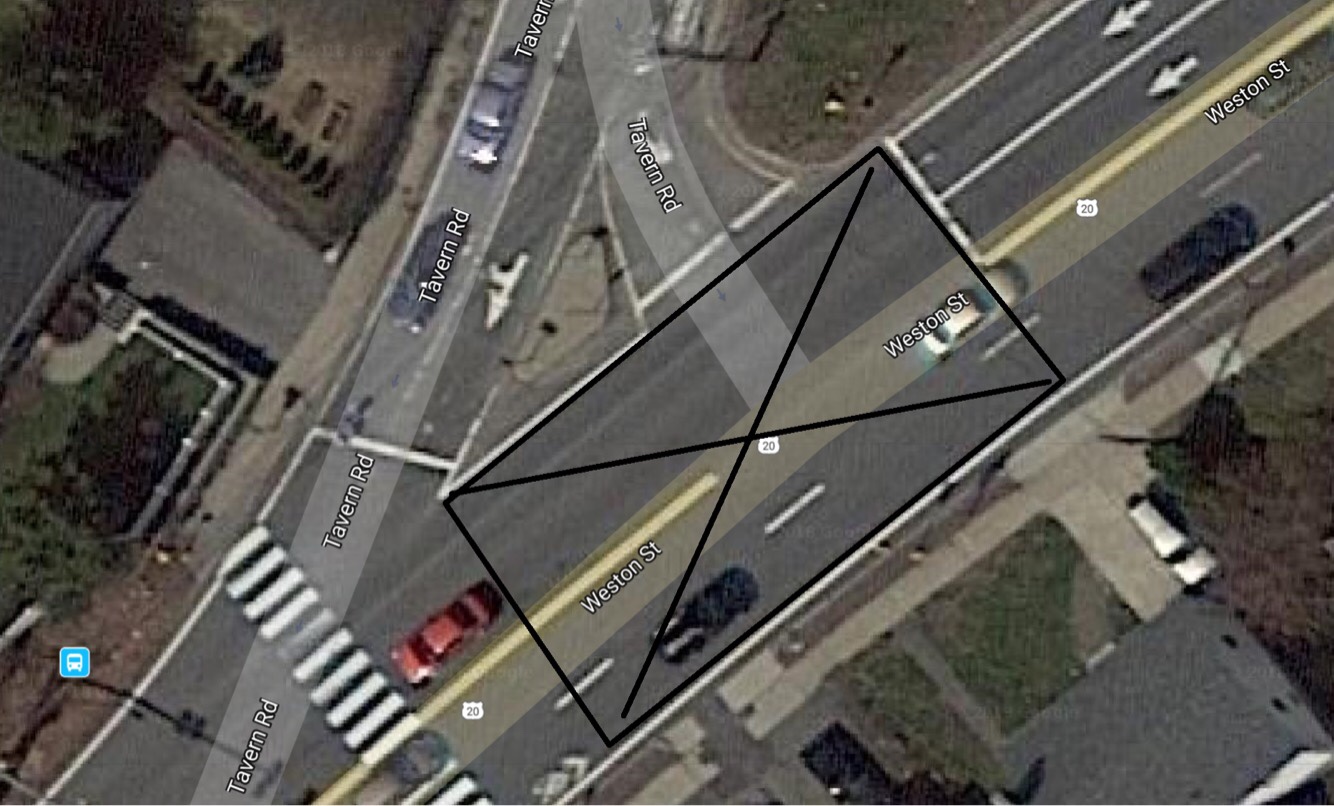 Don't block the box, suggested by a constituent on Tavern Road.
Route 20 Traffic: I asked Waltham's police department to help manage speeding on Route 20 (Main Street), and they responded by installing a lighted sign to help enforce speed limits. The changes to the rotary at Route 20 may help reduce traffic volumes along this street, and I plan on asking the state to implement a lower speed limit along this road as part of the project.
Intersection of South St and Turner St, where new crosswalk beacon is schedulEd for installation.
South Street: Speeding and traffic volumes remain a concern for residents who live near South Street, and for families who attend the Stanley School. I supported an application to narrow the lanes along some segments of South Street to reduce traffic speeds, which was approved for implementation in 2019. I requested an additional flashing crosswalk for Turner Street, to be installed in fall 2019.